Locations
Commercial Transport Terminal Locations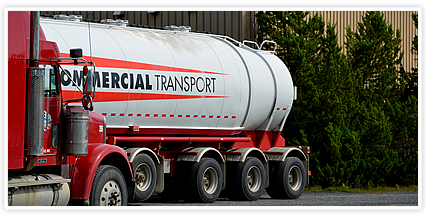 Head Office - Walden Industrial Park, Lively, Ontario 

Chief Finance Officer - Paul Harper
Fleet Supervisor - Darryl Watkins

The Commercial Transport head office and garage is located on a 6-acre site in Walden Industrial Park In Lively Ontario. The general office consists of a 6,000 square foot administration and dispatch area. Repairs and maintenance are performed at 3 drive-thru bays comprised of 7,000 square feet, complete with tank wash. This facility is fenced with video surveillance and is the hub of Commercial Transport's bulk operation.
 
Spragge Office
PO Box 70 Spragge, Ontario P0R1K0
Tel: (705) 849-2231 Fax:(705) 849-2247 

Strategically located terminal, garage, and yard located between Sudbury and Sault Ste Marie, within close proximity to Northern Lime and Lafarge Canada Inc., allowing quick response to these customers serving mining and forestry industries. This facility has an 8,000 square foot maintenance facility and office.


Timmins , Ontario
Hwy 101 East & Hwy 610 Hoyle
Connaught, ON
P0N 1A0
Tel: (705)235-2828 Fax: (705)235-3284
This office and 10,000 square foot garage Located on Hwy 101 near the old Met site is on 10 acre property operates 7 days per week. The facility is fenced with video surveillance statically located to service the mining and forestry in the area.


Thunder Bay, Ontario
100 Main Street
Thunder Bay, Ontario P7B 6R9
Tel: 1-800-461-1110

Located at Kiefer Terminals this facility is fenced with video surveillance statically located to service the mining and forestry in the area. With distances we need to travel to service customer base trailers are stock loaded and dropped for furtherance to customer sites in the area.


Niagara Falls, Ontario
Tel: 1-800-461-1110

Satellite yard Commercial Transport operates comprising bulk chemical storage and transfer availability to service various markets in Southern Ontario and the Northeastern U.S.


Brampton, Ontario
1 Maritime Ontario Blvd. Brampton , Ontario L6S 6G4
Tel: (905) 792-6100 Fax:(905) 792-6115

General freight terminal and office used by both Maritime Ontario Freight Lines and Commercial Transport, owned by related company Tordar Investments Ltd. The building contains 96 truck-level cross-deck doors with 126,000 square feet of warehouse space, and 42,000 square feet of office space, located on a fenced site of approximately 65 acres of land.


Affiliates 

Maritime Ontario Freight Lines
Transport Northwest